Last post I briefly touched on how often we see unprepared or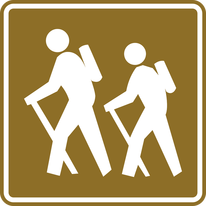 under-prepared hikers on the trail. Instead of standing on a soap box and berating all new hikers, I thought it would perhaps be a bit more constructive to share a bit about my hiking experience and more specifically what gear I bring along on all of my day hikes.
All of my youth camping and hiking experiences came from my time in Girl Guides. Every spring I'd go off for weekend camping trips with my troop. Some summers I even got to go to week-long Girl Guide camps. I was thoroughly involved with the Girl Guides through to my University years. As such I came to live by the official motto of all Scouting organisations: "Be Prepared."
Once I hit my adult years it was time to move on and plan my own adventures. I was living a few hours from the Rockies and ventured into them as often as I could, planning day hikes and overnight trips with my partner. I'm a self-taught backpacker, but always with the right gear to "Be Prepared."
Now onto the important piece: what I keep in my day pack!
​I really love my day pack and highly recommend having a comfortable pack for your hikes. I found mine at an REI Garage Sale a few years back and snatched it up as quick as can be. It's an REI Venturi Pack. It fits 30L of gear which I find is just right for everything I might need to stuff into it. The best thing about it is the floating back, giving me extra space between my back and the pack. No lumpy gear against my back and less sweat too!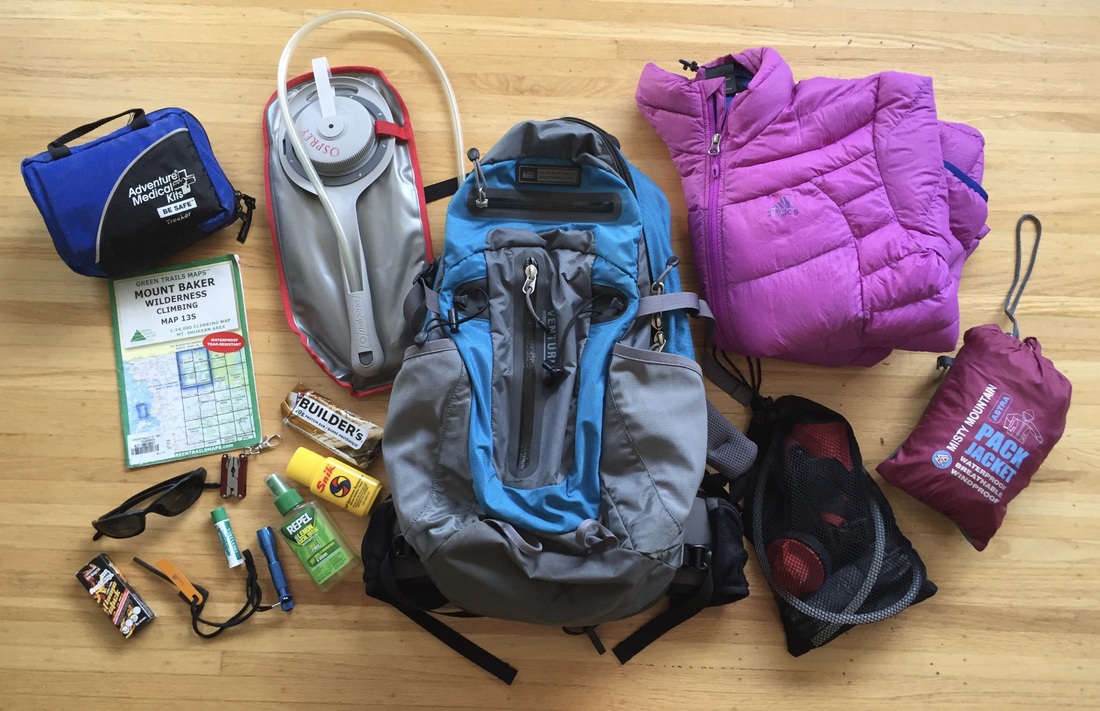 Before packing my bag I always do a bit of research. Some of the things I consider are:
Weather forecast
Trail conditions (Trip reports are great for this!)
Remoteness of hike
Mileage planned
Hike partners
Assuming everything's looking good for our hike, then I'll work through my Ten Essentials.
1) Navigation – Having a physical map is really an invaluable tool. My collection of Green Trails Maps is slowly growing to encompass more and more of Washington. If I can't get a proper fold-out map, then I might take a photocopy from a hiking guide. Every so often I'll even take a screenshot of a map or trail description on my phone.
2) Sun protection – Sunscreen, sunglasses and lip balm come along on every hike. I also have a bandana I like to wear, plus a wide-brim hat for the sunnier days.
3) Insulation – My down jacket is usually my primary extra layer. I will also often have a rain jacket, choosing between the few that I have depending on conditions and time of year. These always get stuffed into small bags to help keep things organized.
4) Illumination – On hikes that are under 10 miles I usually just pack a small LED flashlight. If the hike is longer or trail conditions are questionable then I will usually throw in my headlamp instead.
5) First-aid supplies – We have two First-aid kits and will choose which one to bring depending on length and remoteness of our hike. Both kits include bandages, moleskin and pain relievers.
6) Fire – Our emergency fire supplies are thanks to AceCamp products. We have a fire starter and flame sticks to help get a fire going. When hiking in the winter we will also bring along a collapsible camp stove.
7) Tools – I have a small multi-tool that stays in my bag at all times. On longer hikes I'll throw in a pocket knife as well.
8) Nutrition – Food for a regular day hike will usually include a hard-boiled egg, an apple, granola bar, trail mix, cheese and bread. I always throw a Builder Bar in as extra food as it's hearty enough to keep you going for miles.
9) Hydration – My water bladder holds 2 liters and in summer months I'll also pack along a bottle of Gatorade. I'll also bring a water filter if the hike is longer, more strenuous or in hot weather.
10) Emergency shelter – This is one area of the Ten Essentials that I have neglected. We keep a space blanket in our larger first-aid kit which comes on our longer hikes but I've never brought along anything more substantial.
While this is just my list of basics, there are a variety Ten Essentials out there. Have a look at this comprehensive Guide to Building a Survival Kit for a few more ideas and alternatives.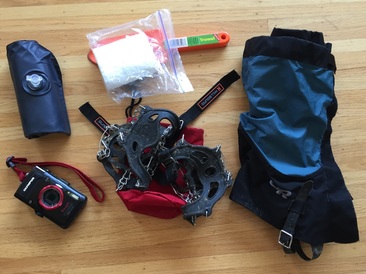 There are a few extra items beyond the Ten Essentials that can be nice to have. For most of our hikes, that includes a trowel with TP and an inflatable seat.
We do lots of hikes in the shoulder season which means we have a good chance of getting up into the snow-line. So trail crampons and gaiters get added to the pile.
Finally we bring a real camera along with us on most hikes. ​We bought an Olympus Tough camera a few years back which gives us a chance to pull out our camera in any weather conditions. I'm also less worried about dropping it or getting it wet.
All in all it's really not that much gear, especially when I compare it with what comes along for backpacking trips. It's my belief that it's worth adding a pound or two and have the peace of mind that comes with knowing you're set for most any situation the trail will throw at you.
So, what are some essentials in your daypack? Do you carry the Ten Essentials on every trip or do you have some variations?